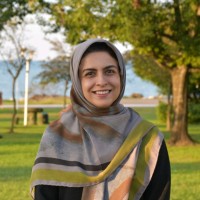 Postdoctoral Researcher at Royan Institute
Research interest(s):
Bioinformatics
Computational Biology
Biophysics
Recent Papers:
Fatemi, N., Salehi, N., Pignata, L. et al. "Biallelic variant in cyclin B3 is associated with failure of maternal meiosis II and recurrent digynic triploidy". Journal of Medical Genetics. (2020).
Salehi, N., Attaran, B., Zare-Mirakabad, F. et al. "The outward shift of clarithromycin binding to the ribosome in mutant Helicobacter pylori strains". Helicobacter. e12731 (2020).
Salehi, N., Amiri-Yekta, A., Totonchi, M. "Profiling of Initial Available SARS-CoV-2 Sequences from Iranian Related COVID-19 Patients". Cell journal. 22(1): 148-150 (2020).
Salehi, N., Attaran, B., Eskini, N. et al. "New insights into resistance of Helicobacter pylori against third‐ and fourth‐generation fluoroquinolones: A molecular docking study of prevalent GyrA mutations". Helicobacter. 24(5): e12628 (2019).
Nourisefat, M., Salehi, N., Yousefinejad, S. et al. "Biological evaluation of 9-(1H-Indol-3-yl) xanthen-4-(9H)-ones derivatives as noncompetitive α-glucosidase inhibitors: kinetics and molecular mechanisms". Structural Chemistry. 30(3): 703-714 (2019).
Salehi, N., Amininasab, M., Firouzi, R. et al. "Efficient construction of a diverse conformational library for amyloid-β as an intrinsically disordered protein". Journal of Molecular Graphics and Modelling. 88: 183-193 (2019).
Rahban, M., Salehi, N., Saboury, A. et al. "Histidine substitution in the most flexible fragments of firefly luciferase modifies its thermal stability". Archives of biochemistry and biophysics. 629: 8-18 (2017).
Fotouhi, L., Yousefinejad, S., Salehi, N. et al. "Application of merged spectroscopic data combined with chemometric analysis for resolution of hemoglobin intermediates during chemical unfolding". Spectrochimica Acta Part A: Molecular and Biomolecular Spectroscopy. 136: 1974-1981 (2015).
Salehi, N., Moosavi-Movahedi, A. A., Fotouhi, L. et al. "Heme degradation upon production of endogenous hydrogen peroxide via interaction of hemoglobin with sodium dodecyl sulfate". Journal of Photochemistry and Photobiology B: Biology. 133(11-17) (2014).